Solar On Grid Power Plant:
Savio sun energy's solar rooftop and community solutions are vital product solutions in a domain that already installed rooftop realizations all over the country. Rooftop on-grid solar power photovoltaic system combines photovoltaic and architecture system. The packaged PV modules are installed on the roof of the residential buildings so our product is formed in order to achieve the conversion of solar radiation into electricity. The rooftop solar power photovoltaic system from our company consists of PV modules, inverters and controlling devices, etc. The raw materials of the core components of PV modules prefer internationally renowned brands which have CE certification. Each solar cell module has been accurately calculated. The finished products are strictly tested through high-precision test instruments. With good quality inverters and controllers, etc. The photovoltaic system has advantages such as long lifespan, no noise, no pollution, no consuming of any fuel and environmental protection. The residential solar power system can efficiently use the building roof and curtain walls without land resources. The electricity from photovoltaic array can supply the building load or the grid. So the system generates electricity during the day and relieves the peak electricity demand.

We have separated team with high qualified, knowledgeable and experienced persons. Our rooftop PV system has novel design, full functions and high quality and we have range of solar plant capacity from 3Kw to 1Mw . We sincerely welcome your purchase.

Solar Off Grid Power Plant :
Savio Sun Energy's Hybrid solar power pack system is designed to operate high loads and charge battery banks through solar power and grid power as the case may be. When the utility power is unavailable or too expensive to bring in to your home or cabin, solar panels allow you to be your own utility company! You can live in peace, with no noisy gas generator to disturb the quiet. Hybrid power pack is designed with energy management system for continuous operation of loads and maintains the battery bank in optimally charged condition in all feasible circumstances. The design abilities and range of our hybrid product solutions make them the ideal choice.

We help you to configure your choice depending on your power needs and recommend the appropriate grid for you that include battery backup need.

Even if you have a small roof don't worry we have high power modules which accommodate the solutions in a small area or we can design and manufacture special structures for you.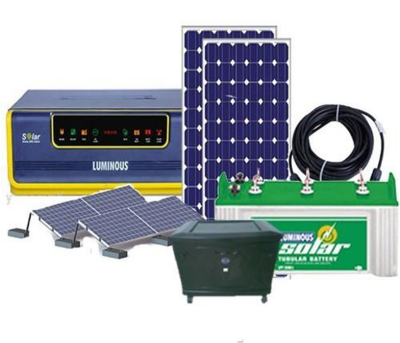 500 W off grid system Specifications:
| | |
| --- | --- |
| Parameters | Capacity |
| 1. Total PV Module | 500 W |
| 2. PV module capacity | 100w |
| 3. No. of Panel | 5 nos. |
| 4. Solar Inverter | 500 VA |
| 5. Batteries(150 Ah X 12 V) | 1 Nos. |
| 6. Sapce required | 8 sq meter |
| 7. Supporting Structure | Ms/GI Chanel |
Ranges from 500 watt to 10 KW 1kW off grid system Specifications:
Each Stand-alone Solar Photovoltaic System will have following ranges
| | |
| --- | --- |
| Parameters | Capacity |
| 1. Total PV Module | 1Kw |
| 2. PV module capacity | 250kwp |
| 3. No. of Panel | 4 nos. |
| 4. Solar PCU / Inverter | 1 KW |
| 5. Batteries(150 Ah X 12 V) | 2 Nos. |
| 6. Sapce required | 8 sq meter |
| 7. Supporting Structure | Ms/GI Chanel |
Recommended Load:
10 LEDs + 4 Fan + 1 Computer
10 LEDs + 3 Fan + 1 LED TV
Backup Time:
Approximate 4-6 Hours for 700W Load
2kW off grid system Specifications:
| | |
| --- | --- |
| Parameters | Capacity |
| 1. Total PV Module | 2Kw |
| 2. PV module capacity | 250kwp |
| 3. No. of Panel | 8 nos. |
| 4. Solar PCU / Inverter | 2 KW |
| 5. Batteries(150 Ah X 12 V) | 4 Nos. |
| 6. Sapce required | 16 sq meter |
| 7. Supporting Structure | Ms/GI Chanel |
Recommended Load:
12 LEDs + 5 Fan + 2 Computer + 1 Printer
18 LEDs + 7 Fan + 3 LED TV
Backup Time:
Approximate 4-6 Hours for 1400W Load